Advocates, experts grade LAUSD superintendent Alberto Carvalho after one year on job
Sara Balanta and Nicholas Dinh | February 23, 2023
---
Get stories like this delivered straight to your inbox. Sign up for the LA School Report newsletter.
Earlier this month, LAUSD superintendent Alberto Carvalho completed his first year heading the nation's second largest school system — a year punctuated by challenges such as declining enrollment and attendance rates, a wide ranging cyberattack, and school drug overdoses.
Advocates and experts told LA School Report Carvalho has also had some notable wins in his first year, such as establishing a good relationship with the LAUSD school board, creating a strategic plan for the system and hiring a strong leadership team. LA School Report also asked the advocates and experts to give Carvalho a grade, which not all were willing to do. Here are their evaluations: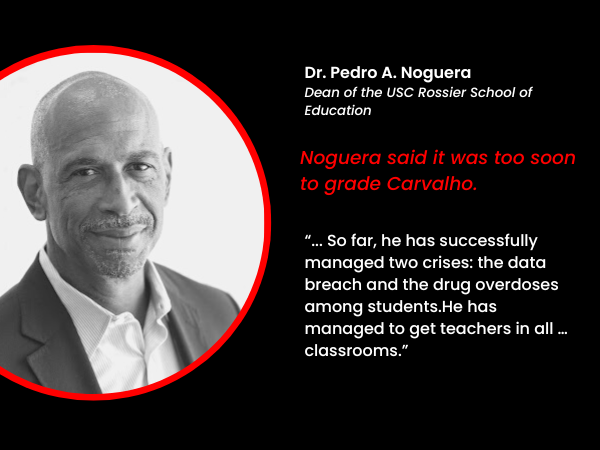 Dr. Pedro A. Noguera: "He has done some reorganizing of the district (but) it is too early to tell how these changes will advance his agenda. He seems to have developed and maintained a positive relationship with the board. This is extremely important for getting things done. Now he must manage relations with his unions and avoid labor strikes. He must also figure out how to address declining enrollment at schools where this is an issue."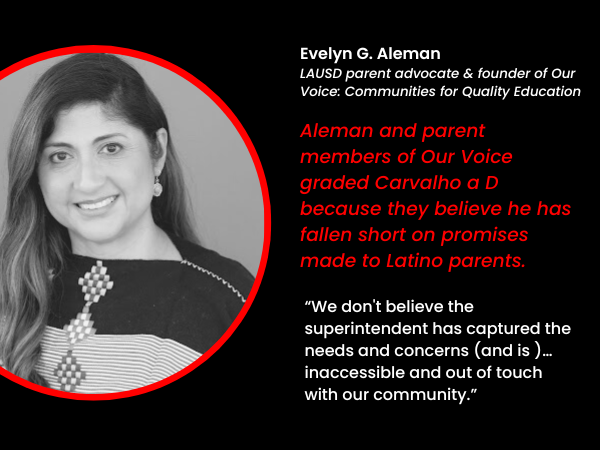 Evelyn G. Aleman: "Our Voice parents feel that Superintendent Carvalho came to the district with energy, experience and promise, but has fallen short on delivery for the Latino community..he will not meet with the parents. His top-down style of management is a disadvantage for a district that is 74% Latino and struggles to connect with the needs, experiences, and concerns of this population… He is inaccessible and out of touch with our community.
"…It is too soon to identify the superintendent's achievements. He has launched and publicized many programs…but we've yet to see results and return on investments. Whether it's the new school menu, parent academy, quality tutoring, mentoring or academic recovery, we wonder who is monitoring the success of these programs."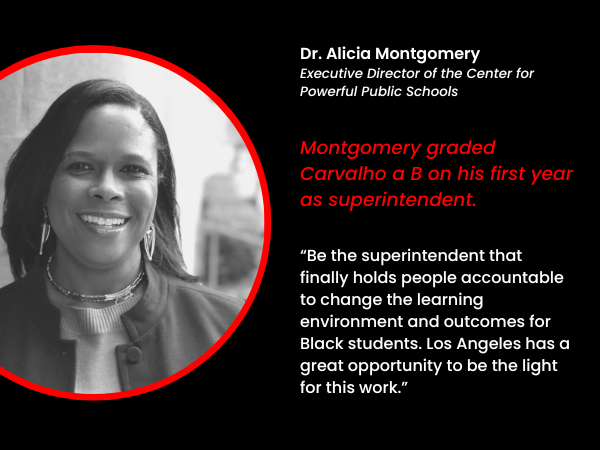 Dr. Alicia Montgomery: "Superintendent Carvalho seems to be a passionate educator dedicated to increasing outcomes for all students. In his first year…he has made some really smart system decisions. He has attempted to bring alignment and coherence to a system that was quite literally divided. He has placed some smart academic and outcome-minded leaders in the leadership team, and has begun to have real accountability conversations with leaders… I would say be sure your smart and very dedicated senior leaders have the freedom to speak their truth to you — and listen. Listening will be the key to building the strong relationships necessary for a long and successful tenure in LAUSD."
Joan Sullivan Anane: "The magnitude of the challenges associated with this monstrous job cannot be overstated… Superintendent Carvalho has accomplished a whole lot in a very short period. He has done the foundational work of building a shared vision, crafting an ambitious strategic plan, aligning resources to that plan, and assembling a strong team…At the center of it all, our superintendent has put 100 priority schools – ones to whom we all owe a tremendous historic debt – which is a statement of values and a monumentally important step in the direction of equity."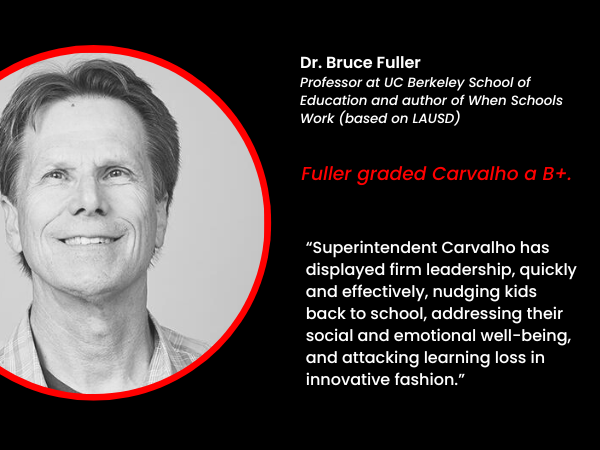 Dr. Bruce Fuller: "Going forward, he might learn from what worked to boost achievement in the quarter-century before COVID — focusing intensely on a few surgical strategies to lift kids. Surgical strategies such as assessing what forms of school choice are narrowing disparities. Is it magnet, pilot, or charter schools? Also, rethinking social ties between students and teachers. Can instructors think more holistically about their kids' motivations and aspirations?"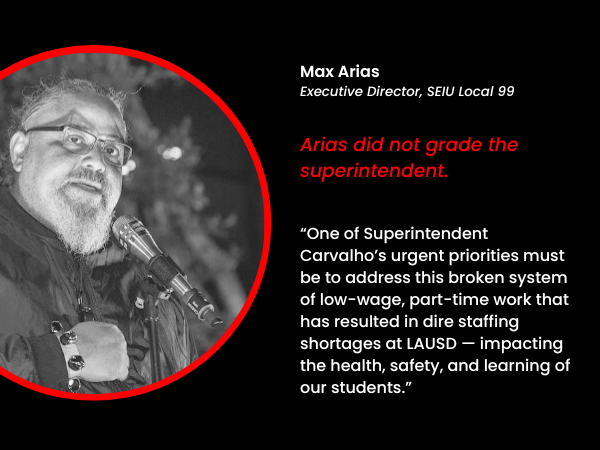 Max Arias: "Superintendent Carvalho has expressed a commitment to meeting the needs of the whole child and has publicly recognized that all school staff are essential to ensuring students and families thrive. As he moves into his second year at LAUSD, we look to him to put his words and vision into action."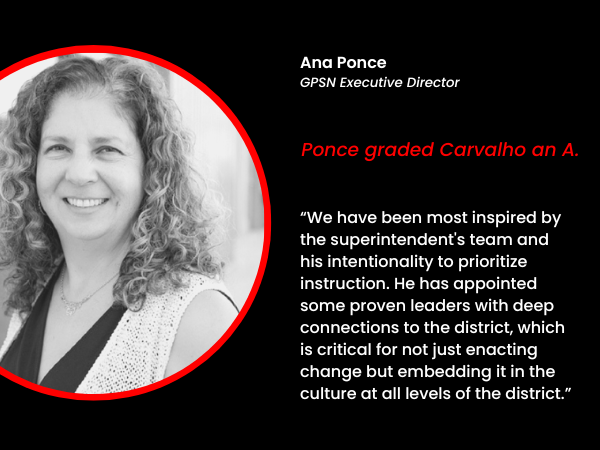 Ana Ponce: "He has led boldly in both his approach (i.e. Acceleration Days) and transparency (i.e. has shared numbers on acceleration actual participation…) as well as tutoring)…Over the last year he has demonstrated his availability to families by participating in community forums and school events consistently…We are hopeful he will continue to build on those efforts by finding ways to make school campuses more open to community partners who are ready to support our students and schools…His biggest challenge is going to be delivering on the promises of the strategic plan with a potential financial crisis and continued staffing shortages. We hope he finds a way to uplift school service workers, most of whom are people of color and far too many living in poverty."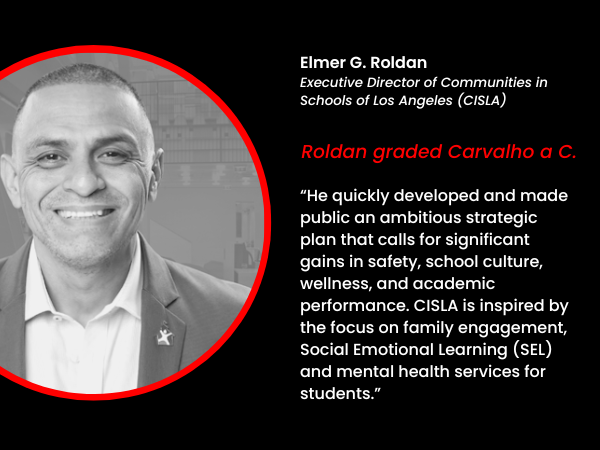 Elmer G. Roldan: "This gives me confidence that he will rally district leaders, educators, school personnel and community partners in a clear direction about how best to help the thousands of Black and brown students who were left further behind during the pandemic. Over the next two years, we would love to see the superintendent be more open to input and feedback from community partners. This may include having round tables or feedback sessions to discuss things like acceleration days, student recovery days, social emotional wellness, and family engagement — in real-time, as the plans are being developed. Nonprofits serve as the safety net for students and are responsible for helping kids get the academic, social, and material support they need to stay connected to schools and graduate on time. Having partners at the table can give him insight and help him keep a pulse on the ground — not to mention get real-time feedback on the implementation of his district strategies."
This article is part of a collaboration between The 74 and the USC Annenberg School for Communication and Journalism.
Sara Balanta is a freshman at the University of Southern California; and a journalism major at the Annenberg School for Communication and Journalism. She is a 2022 Dragon Kim Foundation Fellow where she hosts a project called "Teacher's Aide +", which conducts free renovations in schools.
Nicholas Dinh is a freshman at the University of Southern California; and a journalism major at the Annenberg School for Communication and Journalism. He is originally from Downtown Anaheim, California.