Commentary: Black community college enrollment is plummeting. How to get those students back
Karen A. Stout and Francesca I. Carpenter | May 31, 2023
---
Your donation will help us produce journalism like this. Please give today.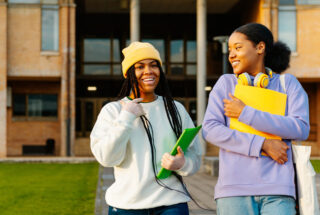 Community colleges are uniquely positioned to support their local communities with pathways to economic and social mobility. But a recent report draws attention to a decline in Black college students, particularly at community colleges, which enroll over one-third (36%) of Black students entering postsecondary education.
From 2011 to 2019, Black enrollment declined at twice the rate (26%) of the overall decrease at two-year colleges (13%), a drop of almost 300,000 students. In 2020, Black enrollment plunged by another 100,000, a return to the same levels as 20 years ago. This threatens "decades of gains in Black economic opportunity through college enrollment," according to the report, prepared for the Level UP National Panel, a coalition of 26 higher education executives, academics and national leaders assembled in response to this alarming trend.
Not only does this promote inequitable opportunity for Black learners; it also comes at significant economic cost to Black families and the nation. Brookings Institution data suggest that downward mobility affects 7 in 10 Black Americans — a racial wealth gap that McKinsey & Co. projects could "cost the U.S. economy between $1 trillion and $1.5 trillion between 2019 and 2028 — 4% to 6% of the projected [gross domestic product] in 2028."
Ensuring Black learner success is not solely about economics. It requires a commitment to redesigning structures and systems that many Black Americans encounter as barriers to economic and social mobility.
In recent years, community colleges have worked to introduce comprehensive supports inside and outside the classroom that help individual students access certificates, degrees and employment. They changed placement-test policies and accelerated transitions into college-level math and English courses. They implemented broad changes to strengthen advising, providing ongoing individual academic and nonacademic counseling when students need it, and created more agile financial aid policies, including emergency assistance. Additionally, community colleges have found resources for food banks and assistance to help students find housing and, in some cases, pay their rent, as poverty disproportionately impacts Black communities. In fact, according to a report from the Joint Center for Political and Economic Studies, "an alarming 70% of Black students experienced food or housing insecurity or homelessness during the COVID-19 pandemic."
However, this work needs to be coupled with a new strategy to bolster access for Black learners, many of whom no longer see higher education as a viable pathway. The strategy must begin by recognizing the fact that many Black college students perceive that they are not welcome. A recent Gallup survey found that Black students "are not only more likely to say they frequently or occasionally feel discriminated against, but also to say they feel disrespected and physically or psychologically unsafe."
To reach and support them, colleges must understand students' experiences and the strengths and challenges of their local communities; present learning content that is relevant to their lives and cultural backgrounds; encourage students to take on inquiry-based assignments and projects that reflect their interests; and eliminate barriers to their success. This requires a student-centered approach to ensure that Black learners have what they need to enter and succeed in college.
This means that schools must:
Transform existing notions of access from open doors that students can enter to lifelong career-matching institutions for students and the communities they serve. That means looking beyond traditional recruitment strategies and providing working adults who never previously considered higher education with credentialing and degree programs that help them secure living-wage jobs. It also means partnering with high schools to bridge the gap for students who are disconnected and disengaged.
Redesign dual enrollment and other college-in-high-school programs to more effectively reach Black learners. Programs such as dual enrollment, early college and joint career and technical education are increasingly important pathways. Nearly 1 in 5 community college students are enrolled through dual credit programs, which have significant potential to improve academic success. But racial inequities limit the availability of these programs to students of color and those from low-income families. The Community College Research Center reports that, "[F]our out of every five school districts have racial equity gaps in access" to dual enrollment.
Eliminate financial barriers by creating real transparency about the cost of college and strengthen policies that can help Black learners. As the Level Up coalition reports ,"the vast majority — 80% — of Black Americans believe that college is unaffordable." This is not surprising given that Black families have fewer assets to pay for college and, as a result, incur significantly more student loan debt than their white or Latino peers. This is true even at the community college level. Only one-third of Black students are able to earn an associate degree without incurring debt. One promising pathway would be to expand College Promise programs, which can have significant positive impact on Black enrollment.

Ensure that Black students have multiple pathways to attaining a credential that leads to upwardly mobile careers — and are not steered into lower-earning fields, as research suggests happens at many community colleges.
It is time for colleges, states and the nation to commit to providing Black students with postsecondary opportunities that lead to life-sustaining jobs and economically mobile careers, and support the vitality of the communities where these students and families live. The alternative is far too costly for Black Americans and the nation.
Karen A. Stout, Ed.D., is president and CEO of
Achieving the Dream
, a national reform network of nearly 300 community colleges.
Francesca I. Carpenter is director of equity initiatives at
Achieving the Dream
.