East LA Forum: District 2 Candidates, Issue By Issue
Samantha Oltman | February 15, 2013
---
Your donation will help us produce journalism like this. Please give today.
Held in the Robert F. Kennedy Community Schools complex, Wednesday night's packed United Way of Greater LA School Board candidates forum provided a somewhat clearer picture of the politics and priorities of the four East LA District 2 candidates who were present.
But some candidates were more direct than others about their views on a range of sensitive issues affecting LAUSD — the role of the teachers union in the district, school choice, the influence of outside money in School Board elections, and Superintendent John Deasy's job performance.
Let's go through the candidates' responses, one candidate at a time.  Or, you can watch the video from the two-hour event here.
MONICA GARCIA
Incumbent Board President Monica Garcia already has a public record illustrating her priorities as a LAUSD Board member, and she didn't seem to hold back much.
She criticized the teachers union, for having "teacher leadership that is out of line with teacher membership."
When asked what she would do differently if she were president of UTLA, she ticked off a numbered list of priorities, which included firing of all ineffective teachers, eliminating teacher seniority, and supporting SB 10, Sen. Alex Padilla's abusive teacher dismissal bill.
Garcia was clear in her support for Superintendent Deasy.
When asked what she thought about the millions in union spending in School Board races, Garcia admitted, "Independent expenditures have their role," but emphasized that grassroots campaigns are the best way to get voters involved in elections.
"I am interested in the grass-roots organic campaign that is reaching out, talking, listening to voters," she said.
ANNAMARIE MONTANEZ
Union-endorsed challenger Annamarie Montanez took a more careful, measured stance when answering forum questions. Often, it was difficult to pin down exactly where she stood.
Montanez admitted that the teachers union has unspecified "issues," praised it for trying to form support systems for teachers, and emphasized how important it was for UTLA to "collaborate with the School Board."
When asked if she supported streamlining the teacher dismissal process for teachers accused sexual or physical abuse or drug misconduct, Montanez said, "Anyone who is accused of anything like this should go through the proper channels and be removed immediately."
On the topics of school choice and Superintendent Deasy, Montanez didn't have direct answers, saying that charters need more transparency and accountability, and that it wouldn't be fair to assess Deasy without working with him.
She also said that what voters have to say matters more than outside money from unions and corporations.
ISABEL VAZQUEZ
Challenger Isabel Vazquez seemed to speak her mind most clearly of all, and wore her lack of major endorsements and outside money as a badge of pride.
Vazquez's criticism for the flow of money from unions and groups like the Coalition for School Reform was direct: The board race "shouldn't be an auction; it should be an election," she said.
Vazquez seemed to approve of the teachers union for the most part, though she said, "We can always do more," specifically, to change what she considers the district's overemphasis on testing.
She was critical about school choice, spending most of her time talking about how she feels charters often exclude students and take away teachers' bargaining rights.
Vazquez said she supported streamlining the teacher dismissal process, but cautioned that the district shouldn't violate anyone's due process.
On the Deasy subject, she said that she would not rehire him when his contract came up for renewal, "based on what I know now."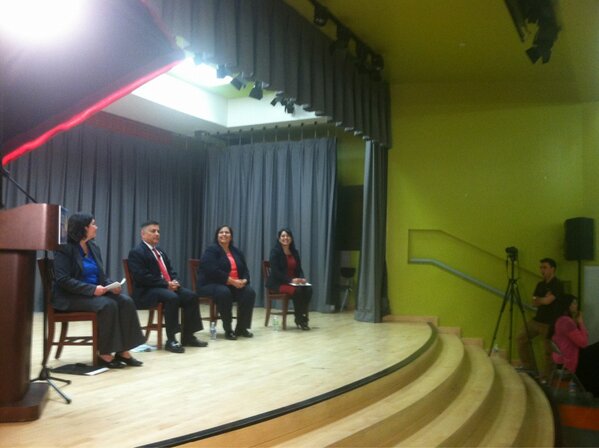 ABELARDO DIAZ
Challenger Abelardo Diaz, a LAUSD high school teacher, had his fellow teachers in mind when answering questions at the forum.
When asked about streamlining the teacher dismissal process, the union-endorsed Diaz said the safety of students should be schools' biggest priority, but was quick to defend his peers, some of whom, he says, are "harassed by students":
"It's not only the children to look after… we have to look out for [teachers], too," he said.
Diaz said he felt the teachers union isn't doing enough to support its teachers, and said that he would listen more to teachers if he were the president of UTLA and would improve the teacher evaluation agreement.
He was critical of school choice options like charters, accusing them of discriminating against English-language learners and students with disabilities.
On the subject of outside money, Diaz zeroed on New York Mayor Michael Bloomberg's $1 million contribution to the Coalition, and warned, "We need to prevent our schools from being privatized."
Of all the candidates, Diaz seemed the most opposed to Deasy, saying without hesitation that he would fire him if given the chance.
Candidate Robert Skeels did not attend the forum. For some insight into his priorities and policies, read: East LA Debate: D2 Challengers Pile On LAUSD