Enrollment continues to decline in LAUSD, a trend many large public school districts are also experiencing
Nova Blanco-Rico and Balin Schneider | September 12, 2023
---
Your donation will help us produce journalism like this. Please give today.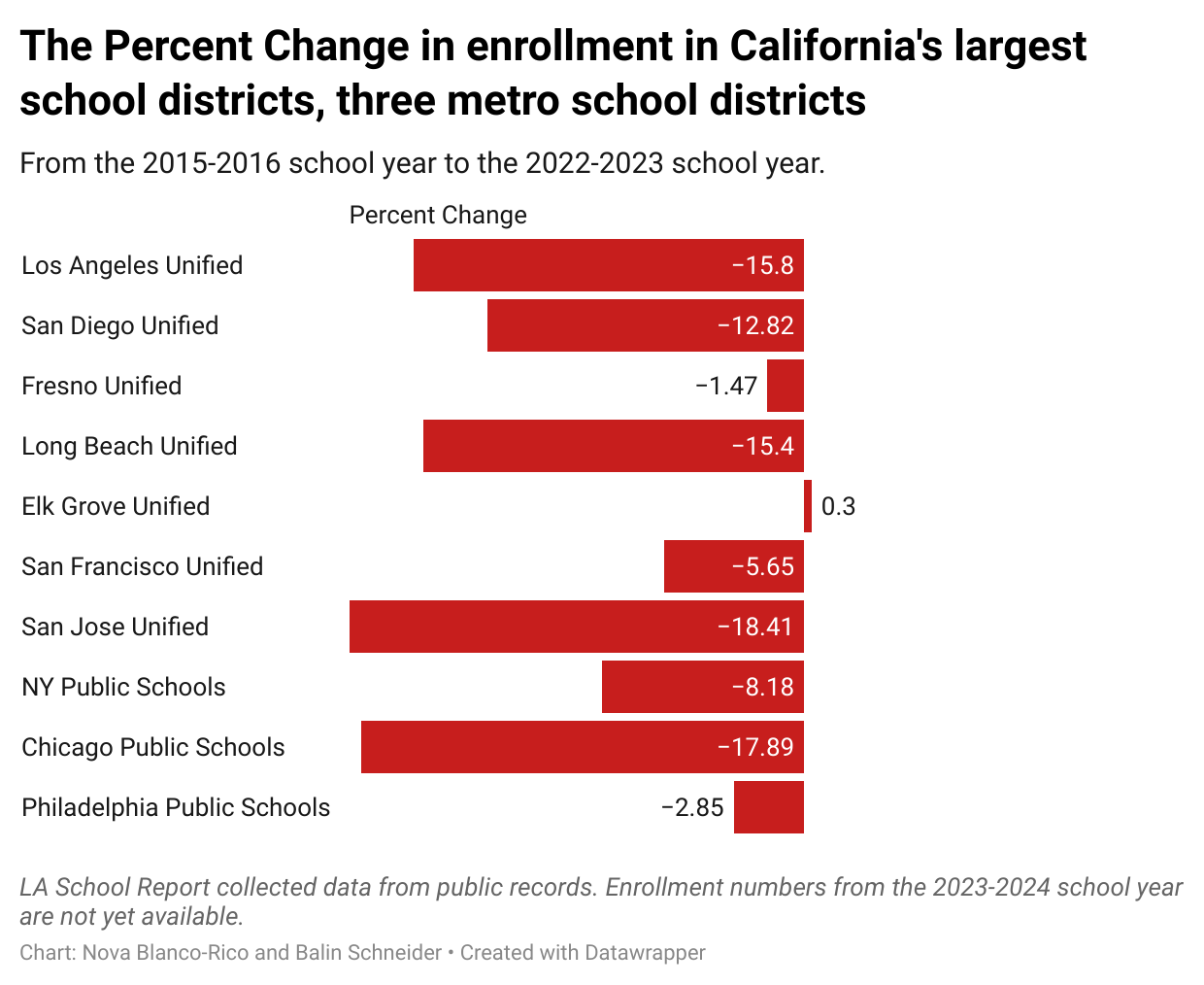 Between the harsh winds of a hurricane and the hectic second week of school, Los Angeles Unified school district officials are hoping for one thing this year — higher enrollment. 
LAUSD, like other big city school districts such as New York City and Chicago, are now admitting 4-year-olds, a plan that will certainly help boost enrollment. 
But since 2015, LAUSD's enrollment has been dropping rapidly. According to data obtained and analyzed by LA School Report, LAUSD has the second largest percentage decline in California after San Jose Unified School District.
"Enrollment declines in LAUSD can be attributed to people enrolling in charter schools, which LAUSD is one of the top largest charter sectors in the nation," said Morgan Polikoff, education associate professor at the University of Southern California. 
The LAUSD trend of declining enrollment is also a result of families leaving California because of the rising cost of living in the state and a declining birth rate.  
COVID also accelerated the decline, Polikoff said. 
For the 2015-2016 school year, LAUSD enrollment numbers stood at 639,337. For the 2022-2023 school year, enrollment numbers hit only 538,295 — more than a 15% decline and a loss of about 100,000 students. 
The data is similar for San Diego Unified, which saw an estimated 12% enrollment decline, losing over 15,000 students in the '22-23 school year compared to its 129,380 cohort in 2015-2016. Similarly, Chicago public schools saw a 15% decline, losing more than 70,000 students. 
New York City public schools had an enrollment of 1,141,232 students in 2016-17. Data from the 2022-2023 shows a decrease to 1,047,895. This September, more than 900,000 were expected to resume classes. 
Losing students can spell big financial trouble for school districts. 
"Every state has a different average daily attendance, so fewer seats in attendance on top of fewer kids enrolled, can greatly decrease the support and funds of districts," Polikoff said. "Having less funding can affect the overall structure of districts since it covers operating buildings, hiring teachers, labor costs and programs" 
Polikoff explained that due to absenteeism and enrollment decline, it's possible for more teacher layoffs in districts like LAUSD as funding decreases. On Sept. 5, however, LAUSD announced in a statement on X that "teachers will receive an incremental salary increase totaling to 21% across three academic years (2022-2023, 2023-2024 and 2024-2025)."
Nova Blanco-Rico covered local news for the Southern California News Group. He also worked at City News Service as an editorial assistant and freelanced as an environmental reporter for CALÓ News. He is now an editor for LA School Report and Dímelo at USC Annenberg.
Balin Schneider is a documentarian and print journalist who covers youth culture in music, international foreign policy and politics. He owns arvonia films, a documentary and music video production company. He attends USC Annenberg for his masters in specialized journalism.
This article is part of a collaboration between The 74 and the USC Annenberg School for Communication and Journalism.