Events: Leaders to Talk College Readiness
LA School Report | June 19, 2013
---
Get stories like this delivered straight to your inbox. Sign up for the LA School Report newsletter.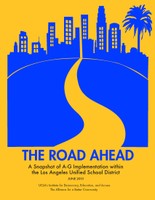 On Thursday morning, Supt. Deasy, Board member Zimmer and policy analysts from Alliance for a Better Community (ABC) and UCLA's Institute for Democracy, Education and Access (IDEA) will gather to discuss a new report on the status of the A-G program.
Passed eight years ago, the "A-G" resolution (a reference to graduation requirements needed to get into a state university) was aimed to ensure that all students have access to classes that are required for admission to universities, rather than taking a purely vocational or occupational track. But educators and experts disagree about whether it has worked out as well as hoped.
"The goal of the event is to determine a solid plan for strengthening the district's implementation of A-G, to ensure that every student not only has access to classes preparing them for university, but is also able to succeed in those classes and graduate from LAUSD," according to the press release announcing the event.