Gen Z entrepreneurs tackle youth mental health crisis with music therapy
Joshua Bay | July 19, 2023
---
Your donation will help us produce journalism like this. Please give today.
As the youth mental health crisis impacts schools nationwide, two Gen Z entrepreneurs created a new way for educators to understand students' emotional needs — through the power of sound.
SoundMind, a music therapy app created by founders Brian Femminella and Travis Chen, reduces students' stress and anxiety through audio and visual beats tailored to the needs of each user.
The goal for Femminella, 23, and Chen, 24, is to use the healing effects of sound as an approach to help students combat pandemic-induced stress so they can focus in the classroom.
"We're not a program, we're a tool," Chen told The 74. "We're a tool that complements existing social-emotional learning curriculum and guides students along the way as they try to relax and improve their mental health."
SoundMind launched in November 2021 and has gained over 100,000 users — in addition to reducing their stress and anxiety levels by 46%.
From districts in Los Angeles to New York City, SoundMind has partnered with schools nationwide to help teachers, counselors and administrators gauge their students' mental health.
The science behind SoundMind centers around their music development team that utilize clinically-proven research.
"It's rooted in thanatosonics…or the relationship between sound, violence and the human relationship," Femminella told The 74. "That's something we found very useful as we developed our binaural beats."
Femminella noted as students' use the app, the built-in artificial intelligence creates more personalized sounds.
Through SoundMind's online platform, educators have the opportunity to check in on their students' anxiety and depression levels.
The platform provides real-time data for educators to better understand trends between their students' happiness and learning capacity.
"The response we hear is that it's transparent and gives them more insights," Femminella said. "We're able to help admin feel like they can actually see what's going on in their classrooms."
Chen added how schools particularly enjoy the suggestions page that provides strategies for educators to remedy their students' specific mental health needs.
"Our platform is comprehensive, immersive and interactive," Chen said. "And we're really proud to be in this specific time where we can help schools with their students' mental health journey."
To increase the app's accessibility, Femminella and Chen partnered with TruConnect to not only provide students with tablets and wireless service through the Affordable Connectivity Program but also a SoundMind membership.
"We recognize that 55% of students are on this program so there was a very big need for us to do this," Chen said.
For Femminella and Chen, mental health advocacy stems from their personal stories.
Femminella and Chen originally met as randomly selected roommates when they interned for the U.S. Congress.
"Over time we really bonded and started going to dinners together and had brainstorming sessions later at night," Femminella said.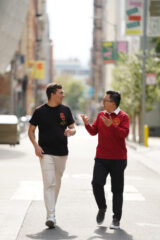 As time progressed, Femminella and Chen discovered their mutual interest in mental health advocacy — which eventually led to the creation of SoundMind in their University of Southern California dorm rooms.
Femminella noted his LGBTQ and military background plays a large role in his understanding of social-emotional wellness.
"I joined the military at a young age and had a lot of political aspirations in regards to how I saw the mental health space and how soldiers were struggling," Femminella said. "I've seen folks in these environments feel small so being able to give a voice to people who feel powerless is something really impactful for me."
Chen said his Asian American roots reinforce his desire to destigmatize conversations around mental health.
"There's a lot of competition in the AAPI community in regards to AP scores and SAT classes to name a few," Chen said. "I remember personally struggling with my own mental health in high school and I knew I had to do something about it."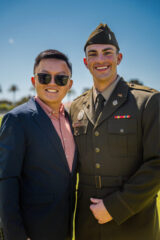 Chen believes the power of social media has shaped the landscape of youth mental health.
"Nowadays students are hiding behind screens," Chen said. "So instead of disciplining and telling them what not to do, how can we meet them where they're at?"
As SoundMind continues to grow, Femminella regards their work with SoundMind as a testament to how impactful Gen Z leaders can be.
"We hope to be the pinnacle of what it means to push hard and be furious about how youth in our country are struggling," Femminella said.
---
This article was published in partnership with The 74. Sign up for The 74's newsletter here.