LA parents collide: Anti-LGBTQ+ demonstrators and those defending inclusive curriculum rally outside LAUSD board meeting
Erick Trevino | August 23, 2023
---
Your donation will help us produce journalism like this. Please give today.
A crowd of demonstrators against LGBTQ+ curriculum and another showing support rallied outside of the LAUSD headquarters Tuesday where a Board of Education meeting was to be held.
Though there was nothing on the school board agenda about LGBTQ+ issues, in June the LAUSD school board unanimously approved a resolution that encourages all schools to create curriculum encouraging LGBTQ+ lessons in district schools.
The protest was prompted by "Leave Our Kids Alone" which rallied people on a private Facebook group. The group claims to be against Comprehensive Sex Education (CSE) in school curriculum, created to give young people age-appropriate information about sexuality and reproductive health.
Before the meeting, demonstrators using the slogan "Leave Our Kids Alone" held signs along the 110 freeway. The demonstrators were blocking the road and entrance into the protest.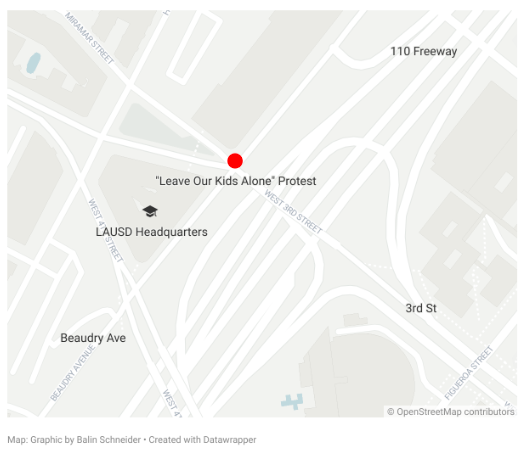 "We don't go around and say straight pride. There are billboards of two guys holding a kid, we don't have billboards of a guy and a [woman] holding a kid. Why do you gotta rub it in our face," said anti-LGBTQ+ demonstrator Artarr Cargar.
On the other side of the street, pro-LGBTQ demonstrators gathered in support of the curriculum.
"They're not even from here," said Nati Casanova, a non-binary protester who lives nearby. "They don't have kids here in this district. And it's just really important to protect our trans and queer youth."
Police arrived to block off streets as the two parties were considered to be demonstrating unlawfully.
"We're just here to basically keep the peace; protect people's First Amendment rights," said Lieutenant Leticia Ruiz, an LAPD spokesperson. Ruiz said neither side received permits for a demonstration and orders were given to disperse, but both parties failed to do so.
Behind the line of the LAPD multiple group members held a white banner that read "Cali parents, do not co-parent with Newsom" a response to the California governor approving a new curriculum in which influential LGBTQ+ figures would be included in social studies books.
In a statement to LA School Report, LAUSD affirmed its stance on LGBTQ+ curriculum.
"Los Angeles Unified will never shy away from being an inclusive environment for all. Every student in the District deserves to be treated with dignity, respect and care and have their entire self celebrated and accepted," The statement continued. "The District follows state laws and state-approved curriculum that reflects and embraces the experiences and backgrounds of our diverse community. However, the District will always and unequivocally provide additional resources and support for every student, including those experiencing gender dysphoria and questioning their sexual orientation, and will respect whatever decision a student and their family determines."
Many of the protestors had the idea that LAUSD was passing out LGBTQ+ books to students, similar to beliefs in Temecula and Murrietta, where they faced backlash towards the new curriculum earlier this year.
"I believe children need to enter adulthood in fully intact bodies," said Belissa Cohen, a demonstrator, referring to her opposition to transgender surgery. "And I believe that if you need books you can get them on Amazon but not all books belong in kid's libraries."
As the protests went on, LAUSD school board president Jackie Goldberg, was inside defending the new curriculum, claiming it was decided after much thought and discussion with faculty and parents.
"As a school district, our priority is always the children," said Goldberg. "[Our district] is a district that includes and values all children, no matter ethnicity, immigration status, gender identity, socioeconomic status, racial or ethnic background, or the neighborhood they live in. Here, haters will never win–not in LA Unified."
At one point an LA School Report journalist and student at the University of Southern California, Erick Trevino, was pushed out of the demonstrator crowd for recording:
On the Fourth St. side of Beaudry Ave, people carrying LGBTQ+ and transgender flags were chanting "Go home fascists!" to the "Leave Our Kids Alone" group. Casanova believes that many "Leave Our Kids Alone" protesters came from outside the school district and belong to the greater 130,000 members of the Facebook group. Casanova hopes voices from within the community will be heard and not drowned out by outsiders, who think that queer people just existing is reason enough for them to believe they are rubbing their queerness in other's faces.
"They're trying to cut us out of community and society," Barbara Friend, an LGBTQ+ activist, said. "And we're just here, putting our foot in the ground saying we're here."
This article is part of a collaboration between The 74 and the USC Annenberg School for Communication and Journalism.
Erick Trevino is a graduate student in journalism at the University of Southern California Annenberg School of Communication and Journalism.