'Late-in-the-game' COVID relief fund guidance leaves some scratching their heads
Linda Jacobson | January 4, 2023
---
Your donation will help us produce journalism like this. Please give today.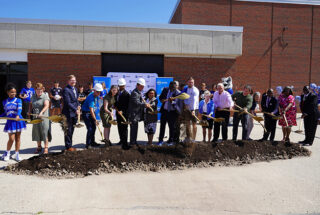 Earlier this month, more than two years into schools' attempts to spend an unprecedented $189 billion in COVID relief funds, federal officials released a 97-page document that "strongly encourages" districts not to spend the windfall on construction.
There's one hitch: According to one analysis, districts are already spending, or planning to spend, almost a quarter of funds from the American Rescue Plan on facilities and operations.
"Getting clarifications and new restrictions this late in the game is tough on [districts]," said Marguerite Roza, director of the Edunomics Lab at Georgetown University. "What happens if money is already approved and spent before these recent" guidelines were released?
The department was especially pointed about using federal dollars to build and upgrade sports facilities. The Milwaukee school district, for example, paid for new athletic fields and the Perry County Schools in Alabama renovated weight rooms using relief funds.
Such expenses would not be allowed unless districts can connect the project to COVID preparedness and response, the document said. "It is unclear, for example, how constructing a swimming pool is related to the pandemic," according to the department.
The Milwaukee district declined to comment on its use of funds for athletics-related projects, while the Wisconsin Department of Education said it is still reviewing the guidance to "determine next steps." Alabama officials did not respond to requests for comment.
With billions in COVID relief funds for schools still unspent, school finance experts say the guidance could confuse district leaders who have been waiting for the guidance for months. But with it dropping before the holidays, it could be well into January before states offer webinars or other opportunities to explain it to districts.
The document is not law, but says leaders should be prepared to justify how their projects relate to the pandemic. The pace of spending has picked up this fall, according to Roza's tracking of expenditures. A recent survey from McKinsey and Company, however, showed that over 40% of those responding said they were struggling to navigate compliance standards related to spending the funds.
In March, the department told Georgia schools Superintendent Richard Woods that it was OK for districts to use the money to cover rising fuel costs. The new guidance doesn't specifically address that scenario and only gives expenses "related to improving indoor air quality" as an "acceptable" example.
Department officials told The 74 that the newest information is consistent with past guidance and that they have always "urged caution around long-term facilities and capital expenditures." They said whether an expense is allowable is still up to state officials.
"It really isn't our role to ensure that states are looking at every single situation in the exact same way because … the context matters," the official said.
Still, Elleka Yost, director of advocacy for the Association of School Business Officials International, said the "tone" of the document bothers her.
"The quality of school facilities impacts student health, well-being, attendance, engagement and learning," she said. "Investing funds in facility improvements should be seen as part of a district's strategy to recover from the pandemic and improve student learning rather than as something contradictory or unessential to achieving those goals."
Some district leaders have made the case for spending relief funds on athletic facilities by saying they improve health and safety.
Sasha Pudelski, advocacy director for AASA, the School Superintendents Association, wrote that instead of providing flexibility for districts with classroom additions going up or extensive renovations already underway, the department chose to "criticize these decisions and chastise districts for these expenditures."
The department provided no more details in response to the requests for extensions on spending the funds that came from AASA and members of Congress, but said it will lay out a process "at a later date."
Districts worried about obligating the money by the 2024 deadline could pay ahead for services delivered over multiple years; the document lists a software license as an example. But it also warns that this practice is "not good stewardship" of federal funds.
Teachers and parents
Since the American Rescue Plan passed in March 2021, experts like Roza have also cautioned districts against using the funds for teacher and staff pay raises because it would be hard to continue covering those higher costs when the money runs out.
But the guidance notes that the funds can be used for "permanent salary increases." Austin Reid, senior legislative director for federal education policy at the National Conference of State Legislatures, finds that advice puzzling, given talk of a looming recession.
"Funding full roles or permanent salary increases can still be a risky bet by local districts, especially given the uncertainty in the economy," he said.
Paying parents incentives to ensure their children go to school, on the other hand, is off the table, according to the department, which called attendance a "mandatory activity."
"This one frustrated me, in part because we have a massive problem with chronic absenteeism," Roza said. "Seems like we shouldn't be invoking the notion that school is mandatory so soon after school became un-mandatory when it shut down for a year."