LAUSD by the numbers: Crunching the data on crime, overdoses and accidents at area schools
Jon Regardie | May 16, 2023
---
Your donation will help us produce journalism like this. Please give today.
Los Angeles has been shaken recently by a series of crimes and other dangerous or deadly incidents at local schools. The situation is drawing high-level attention.
"In the past two weeks, we've seen near-death overdoses at an LAUSD middle school, the death of a mother and critical injury of her child as they walked to school, and a stabbing on the grounds of an LAUSD school," Mayor Karen Bass said Wednesday. "These devastating incidents are unacceptable."
Bass added that she and Los Angeles Unified School District Superintendent Alberto Carvalho are discussing "strategies to keep our teachers, students and employees safe," and will hold community meetings on the topic.
Sheer numbers mean some troubling incidents are to be expected. The LAUSD has more than 420,000 K-12 students and 74,000 employees on over 1,000 campuses. There are also hundreds of private schools in the region.
An examination of publicly available LAPD data shows that crime at local schools is not rare, though the most serious incidents happen infrequently. In the academic year that began in August, the Los Angeles Police Department fielded more than 150 monthly crime reports six times. In March there were 218 incidents.
Yet figures are well below the totals of a decade ago. In 2022, there were 1,993 reports at area schools (there are no breakdowns for whether incidents took place on LAUSD or other campuses). In 2013, according to police data, there were 3,305 crime reports.
This does not necessarily mean troubling incidents at schools have fallen so substantially. While a decline may be occurring, the trend could also reflect evolved thinking as to when police are called. Increasingly, school administrators and others seek to resolve certain incidents without law enforcement. The overall number of juvenile arrests in Los Angeles has tumbled in recent years.
Burglary to battery
In the period from Aug. 1, 2022–April 22, 2023 (the latest date for which information is available), there were 1,557 crime reports at Los Angeles schools, according to LAPD data. There were 683 incidents at high schools, or nearly 44% of the total. The remainder were nearly equally divided between junior high and elementary school campuses.
Many of the reported incidents in the current academic year were non-violent in nature, with 212 burglary reports and 162 vandalism calls. There were numerous instances of theft.
Yet there have also been more serious incidents, including 280 reports of battery, and 85 of assault with a deadly weapon.
Crime reports are made at schools across Los Angeles. Since August there have been 63 in Sun Valley and 62 in Reseda. The neighborhoods with the next highest counts were Boyle Heights, (53), Woodland Hills (52) and South Park (50).
Police data shows that incidents increase as the week goes on. In the current academic year, there have been 362 crime reports at schools on a Friday. The Monday count is 215.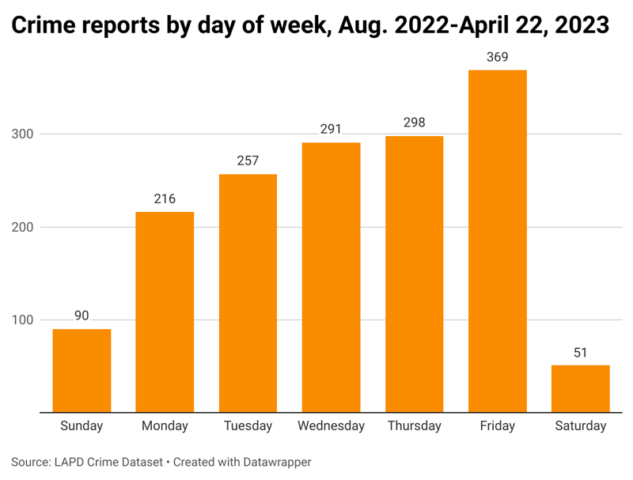 Most incidents do not generate media attention, and the public may only learn something happened in a recorded call or email from a school principal to parents. Yet it was a widely reported May 1 stabbing that contributed to Bass' statement.
On that Monday afternoon, 15- and 16-year-old boys were attacked outside Los Angeles High School in the 4600 block of Olympic Boulevard. The following morning Police Chief Michel Moore told the Los Angeles Police Commission that the two (one of whom was a student at the school) were confronted by a group of about 10 people who arrived in two cars.
"These attacks resulted in stab wounds to their upper back, right arm, right leg," Moore told the Police Commission, adding that the victims were taken to a hospital for treatment. Later that evening one man and two male teenagers were arrested. Two knives and two guns were recovered.
Attention has also been focused on drug overdoses, with fentanyl driving the grim trend. Last September Melanie Ramos, a 15-year-old student at Helen Bernstein High School in Hollywood, was found dead in a school bathroom after she and a friend visited a nearby park and bought pills they believed were Percocet, but that likely contained fentanyl. Ramos' mother has filed a wrongful death and negligence lawsuit against the LAUSD.
In the wake of Ramos' death, Carvalho announced that naloxone, which can reverse an opioid overdose, will be made available at all LAUSD schools.
How we did it: We examined publicly available crime data from the Los Angeles Police Department from Jan 1, 2010–April 22, 2023.
LAPD data only reflects crimes that are reported to the department, not how many crimes actually occurred. In making our calculations, we rely on the data the LAPD makes publicly available. LAPD may update past crime reports with new information, or recategorize past reports. Those revised reports do not always automatically become part of the public database.
This article was originally published in Crosstown.