New data: School shootings surge to a record high — two years in a row
Mark Keierleber | September 14, 2023
---
Your donation will help us produce journalism like this. Please give today.
Despite heightened concerns about campus safety since the pandemic, in many ways America's public schools are safer today than they were a decade ago, federal campus crime data released Wednesday reveal. Yet in one startling way, they've grown exponentially more dangerous: An unprecedented growth in school shootings.
There were a record 188 school shootings resulting in injuries or deaths in the 2021-22 school year, according to the latest available data included in a report released today by the Education Department's National Center for Education Statistics. That's twice as many shootings on campus than the previous record — set just one year earlier.
The annual report, in its 25th iteration, leverages data from across federal agencies, including the Justice Department, to provide the public and policymakers with comprehensive insight into the safety conditions of the country's school campuses, including cyberbullying and weapons possession. The new data offer fresh fodder in the ongoing political debate about how to thwart gun violence in schools.

In some ways, the policy outcomes from such attacks are apparent in the data itself. As high-profile shootings and other campus safety incidents drive divisive discussions about gun control and policing, they've also led to a surge in — and near-universal adoption of — numerous physical security measures. By 2019-20, 97% of public schools controlled access to their campuses, 91% used surveillance cameras and 77% required district employees to wear badges. The number of campuses with security staff ballooned from 43% in 2010 to 65% by 2020.
The spike in parental concerns over school safety seen in the aftermath of high-profile school shootings in Parkland, Florida, in 2018 and last year in Uvalde, Texas, dipped slightly this year, according to a Gallup poll released in late August. Among surveyed parents, 38% reported that they fear for their child's safety, down from 44% in 2022. Still, the percentage of people who fear for their children's safety is still among the highest it's been since Gallup began to poll parents on the topic in 1977. Gallup's historical high, at 55%, was measured shortly after the 1999 Columbine High School shooting in suburban Denver.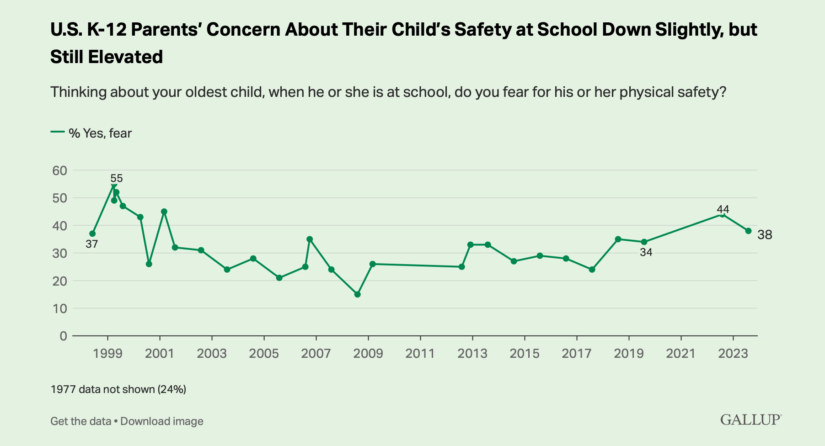 For the purpose of the federal report, "school shootings" include "all incidents in which a gun is brandished or fired or a bullet hits school property for any reason, regardless of the number of victims" and motive, including planned attacks, accidents and domestic violence. The methodology and collection methods used by the Education Department differ from those of other groups and media outlets that track school shootings. For example, the K-12 School Shooting Database lists 250 school shootings in 2021 and 305 in 2022. Education Week, which only includes incidents where someone is struck by a bullet, counts 35 school shootings in 2021 and 51 in 2022.
The federal report doesn't include school-shooting data from the 2022-23 academic year.
While the federal data on school gun violence incidents "is of course extremely striking," it is just "one piece in the puzzle of our understanding of school shootings," Véronique Irwin, an associate education research analyst with the National Center for Education Statistics, said on a press call Tuesday. "It's important for us to examine other dimensions as well."
Despite the recent uptick in campus firearm incidents, the number of violent deaths of students in schools hasn't followed a similar trendline and remains rare, the new federal report reveals. Nor have "active shootings," a specific subset of campus gun violence, like the Parkland and Uvalde attacks, where an individual is "actively engaged in killing or attempting to kill people in a populated area." Fourteen people were wounded or killed in active school shootings in 2021, the report revealed, compared to a high of 81 in 2018.
Between 2000 and 2021, there were 46 active shooting incidents, resulting in 108 deaths and 168 injuries. Of the 47 people who carried out the active shootings, all but one was male.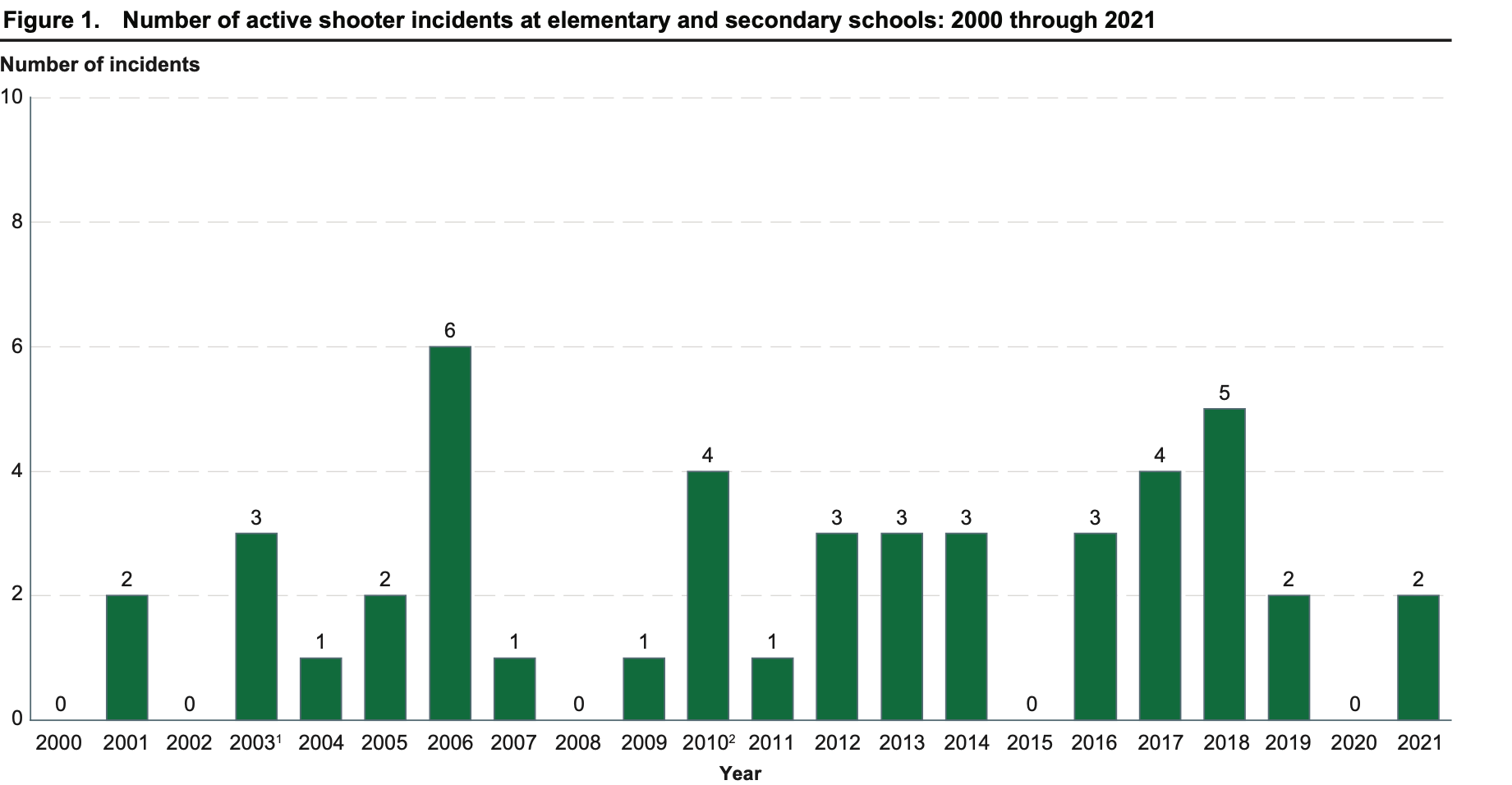 Beyond school shootings, the new federal report offers a mixed bag on various campus safety metrics, and at times appears to contradict other reports that have sounded the alarm about an uptick in student misbehavior since the pandemic.
Between the 2009-10 school year and 2019-20, the number of students who reported campus bullying decreased from 23% to 15% and reported gang activities dropped by more than half. School fights, weapons possession and alcohol use also declined. For some metrics, the most recent data are from 2019 and don't capture the disruptive nature of COVID campus closures. Data captured after the pandemic began should be interpreted with these destabilizing forces in mind.
Educators also experienced improved safety conditions in schools between 2011 and 2021, the report suggests. Six percent of teachers reported that a student had threatened to injure them in 2020-21, a decrease from 10 percent a decade earlier. Similar declines were observed in the number of teachers who fell victim to attacks.
Still, the research revealed that educators have observed an uptick in disrespect from students, verbal abuse and overall classroom disorder.
---