Opinion: Without affordable child care, graduating from college can be nearly impossible
Nicole Lynn Lewis | July 26, 2023
---
Your donation will help us produce journalism like this. Please give today.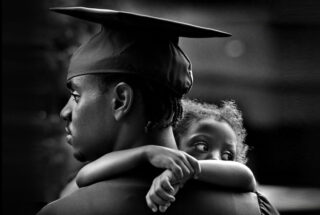 In 2003, I accomplished something that seemed unfeasible for students like me: I graduated from the College of William & Mary as a young mother. I'd navigated the many hurdles that student-parents encounter in higher education, including housing and food insecurity, the need for more hours in the day for schoolwork and to care for my daughter, and the shame and stigma I often felt from others on and off campus. Yet, one challenge followed me after I graduated: Even with a full-time job and a degree, finding affordable, quality child care for my 4-year-old made balancing parenting and my aspirations to provide a better life for my daughter extremely difficult.
Twenty years later, the lack of child care still keeps millions of parents from entering or remaining in the workforce — and the pandemic has only exacerbated this issue. A Census Bureau survey found that in just the first two weeks of February, nearly 5 million people missed work to care for children who were not in day care, and it is the reason cited by nearly 60% of parents who left the workforce during the COVID. In the last few years, over 16,000 child care facilities have closed, and many more still operate at a limited capacity. The crisis is especially acute in predominantly Black and Latino communities.
But an equally devastating consequence is that it makes enrolling in and finishing college nearly impossible for millions of parents. For mothers and fathers with low incomes, a postsecondary credential provides the most reliable pathway out of poverty. Yet for these parents, who are also disproportionately Black, Indigenous, and Latino, there is limited access to child care, both on and off campus.
This is one of the top reasons student parents are 10 times less likely to complete a bachelor's degree within five years than those without children. The college affordability gap is also wider for student parents — when the cost of child care is factored in, the out-of-pocket cost to attend a public college is often two to five times more expensive. Sixty-eight percent of student-parents live near or below the poverty line, and high child care costs only add to their financial burdens. Underresourced families devote an average of 35% of their income to child care expenses; across the country, the cost of a spot at a child care center exceeds the average in-state tuition at a public four-year university. These exorbitant expenses can force parents to rely on makeshift forms of child care and prevent them from pursuing opportunities that could lead to higher earnings — like a degree.
Recent bills like the American Rescue Plan Act show how adequate investment and policy can make a difference. Its temporary funds provided $39 billion in emergency support for child care, preventing some 3.2 million slots from disappearing. But without long-term solutions that address rising child care costs and declining access to quality care options, student-parents are likely fighting a battle with no end in sight. Families need policies that create a long-term impact and clear a pathway to economic mobility, including the possibility of earning a postsecondary credential.
Higher education leaders and policymakers must rally around the success of student-parents and their children. One of the first steps should be collecting data on the parenting and caregiving statuses of students at colleges and universities. This is essential to improving college completion rates for student-parents. Without comprehensive data, it is impossible to understand the hurdles and barriers that prevent these students from attaining academic and professional success.
Federal agencies such as the U.S. Children's Bureau must increase funding for child care and back efforts to lower and stabilize the cost — particularly for services provided at community colleges and other colleges and universities that especially serve minority populations, which is where the largest share of student-parents can be found.
Policymakers and college leaders should also consider the benefits of two-generation educational programming — for example, providing student-parents with child care for their younger kids that ensures they are developmentally, academically, and emotionally prepared for kindergarten and beyond. Barriers to child care have multi-generational impacts felt most acutely by low-income communities and communities of color. Programming that solves child care concerns while providing early childhood development is critical, as it eases student-parents' path to college completion while preparing their children for early academic success. Transforming colleges and universities into hubs for flexible, adaptable and strategically designed two-generation programming sets the stage for lasting ripple effects, helping parenting students and their families to thrive personally, academically and professionally.
Lastly, colleges must adopt practices that highlight the resources accessible on their campuses. They should encourage student-parents to share their experiences, as this will lead to an environment where those in similar situations feel supported and comfortable enough to seek assistance. In addition to offering basic aid, colleges and universities should also provide student-parents with information on career development opportunities and public assistance programs that would best fulfill their needs.
Finding the way out of the child care crisis will benefit millions of families, putting money back into the economy and making success stories like mine a lot more common.
Nicole Lynn Lewis is founder and CEO of Generation Hope, a nonprofit organization dedicated to ensuring that student-parents have the resources they need to complete college and gain economic mobility.