Photos from the L.A. school shutdown: Picket lines, meal pickups & lots of rain
Meghan Gallagher | March 21, 2023
---
Your donation will help us produce journalism like this. Please give today.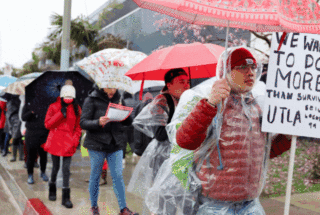 Service Employees International Union Local 99, which represents roughly 30,000 custodians, cafeteria staff, bus drivers and other service workers at the Los Angeles Unified School District, walked off the job Tuesday. United Teachers Los Angeles, also in contract talks with the district, also joined the protest in support, beginning a three-day work action that should leave classrooms shuttered until Friday morning. (More background on the strike: Read about how it could prove to be a pivotal test for Superintendent Alberto Carvalho, and why parents were expressing frustration last week about their leaders' inability to avert the shutdown.)
With rain falling this morning, teachers marched, volunteers braved the elements to assist with meal pickup sites, and local institutions made accommodations to welcome some of the 400,000 students who may have had nowhere else to go today.
A brief collage of what this morning looked like with no schools in session:
A Los Angeles public school playground stands empty as Los Angeles public school workers, teachers and supporters walk the picket line.
This is the first day of a 3-day strike against #LAUSD. Here at a bus yard in #VanNuys, bus drivers march in a picket line in the pouring rain. They want a 30-percent pay raise. @knxnews pic.twitter.com/zV6DjSnMlX

— Jon Baird (@KNXBaird) March 21, 2023
LAUSD tweeted this statement early Tuesday morning:
— Los Angeles Unified (@LASchools) March 20, 2023
Tens of thousands of people are outside LAUSD headquarters right now in solidarity with striking workers!! Schools are currently shut down due to the strike. @LAUSDSup is refusing to negotiate with @SEIULocal99 but the people are out here!! @UTLAnow pic.twitter.com/KSiQOjJqqJ

— People's City Council (@PplsCityCouncil) March 21, 2023
The Los Angeles Rams defensive lineman Aaron Donald and other community members spent the morning assembling packed meals for LAUSD students.
Stepping up in the community.@AaronDonald97 and his family spent the morning helping provide pre-packed meals for LAUSD students. pic.twitter.com/4w2IbzFLYW

— Los Angeles Rams (@RamsNFL) March 21, 2023
LAUSD food distribution for families is supposed to finish at the Glassell Park Recreation Center at 10:30 am but there were still lines of cars as of 10:15. Workers said they'll go for another half hour. #LAUSDstrike pic.twitter.com/92Sw2LqeJD

— Andrew J. Campa (@campadrenews) March 21, 2023
Rain or shine, The LA Trust staff distributed necessary food for students throughout almost 24 different Grab & Go locations in LA today. pic.twitter.com/Ot2ULVg80L

— The Los Angeles Trust for Children's Health (@thelatrust) March 21, 2023
What happens to the kids while schools are closed? The district posted student activities and resources to Schoology:
To access student activities and resources, please log on to Schoology at https://t.co/evvoh7hAAX. pic.twitter.com/LQuU7xa3pF

— Los Angeles Unified (@LASchools) March 21, 2023
Many Los Angeles institutions opened their doors to parents in need of childcare. The Department of Public Social Services shared a free, drop-in recreation program from 8 a.m. to 5:30 p.m. across 16 Los Angeles County parks for students to attend through Thursday:
LAUSD PARENTS: #LACountyParks is activating their #EverybodyPlays drop-in recreation program from 8:00am-5:30pm at 16 #LACounty parks on Tuesday 3/21, Wednesday 3/22, and Thursday 3/23. Grab-n-go breakfast & lunch in San Pedro and Culver City.#LAUSD #strike @CountyofLA pic.twitter.com/hrWSHry7TG

— County of Los Angeles | DPSS (@LACo_DPSS) March 20, 2023
The Natural History Museum of L.A. and Zoo also stepped in to provide free admissions for parents scrambling to find plans.
Natural History Museums of Los Angeles County (#NHMLAC) To Offer Free Admission To #LAUSD Students If Strike Commences: https://t.co/lwUUVMHIUq@NHMLA @labreatarpits pic.twitter.com/EcDIptr1Ss

— Natural History Museums of L.A. County • #NHMLAC (@NHMLAC) March 20, 2023
To assist our community, we're extending our LA Unified school group pricing for currently enrolled students during school days: FREE for K-12 grade students and $5 for adult chaperones. We are also offering Community Safari Days. Learn more at: https://t.co/Z2tlN1kNj8. pic.twitter.com/LFNPaDsUaf

— Los Angeles Zoo (@LAZoo) March 20, 2023
And this reporter noted more kids out than usual while on a grocery run:
Two kids at my gym class… five spotted at Trader Joe's. What signs are you seeing today of @LASchools strike?

— Alex Cohen (@alexcoheninla) March 21, 2023
Outside of Robert F. Kennedy Community Schools, a signs reads "School resumes Friday, March 24" as UTLA President Cecily Mart Cruz addresses a press conference.
Read more: Tips for families about meals, school materials, child care & more during shutdown
Follow LA School Report on Twitter and sign up for our newsletter to keep up with the latest headlines.