Poll: Support for schools shook by pandemic
Linda Jacobson | August 22, 2022
---
Your donation will help us produce journalism like this. Please give today.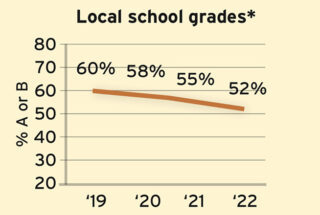 The historically positive views toward public schools took a hit during the pandemic, according to poll results released earlier this month.
In 2019, 60% of Americans graded their schools an A or a B. But after more than two years of disruption, 52% give those marks in the latest Education Next survey, which has measured opinions on major education topics for 16 years.
"Those grades have been going up for a very long time and were remarkably high [early on] during the pandemic itself. In some ways, it was an expression of solidarity," said David Houston, an assistant professor at George Mason University in Fairfax, Virginia, and a co-author of the report. He said that while the public's views "haven't tanked by any means, they suggest that if there was a kumbaya moment, it appears to be ebbing."
As fall elections approach, the results provide a glimpse into how education issues could sway voters. With almost 1,800 responses, the data points to a widening "partisan gap" between Democrats and Republicans on a lot more than just mandating masks and teaching about race. Over time, the parties have grown further apart on issues such as teachers unions, education spending and how they rate their local schools.
"The potential middle ground is truly vanishing," Houston wrote with Paul Peterson and Martin West of Harvard University. "Public opinion on education issues seems to be increasingly drawn into the powerful current of partisanship in contemporary American politics."
The Education Next poll, which brings a more conservative lens to education issues, adds to recent takeaways from surveys conducted by left-leaning organizations. Those show that with elections nearing, Democrats may have lost their edge over Republicans on education issues.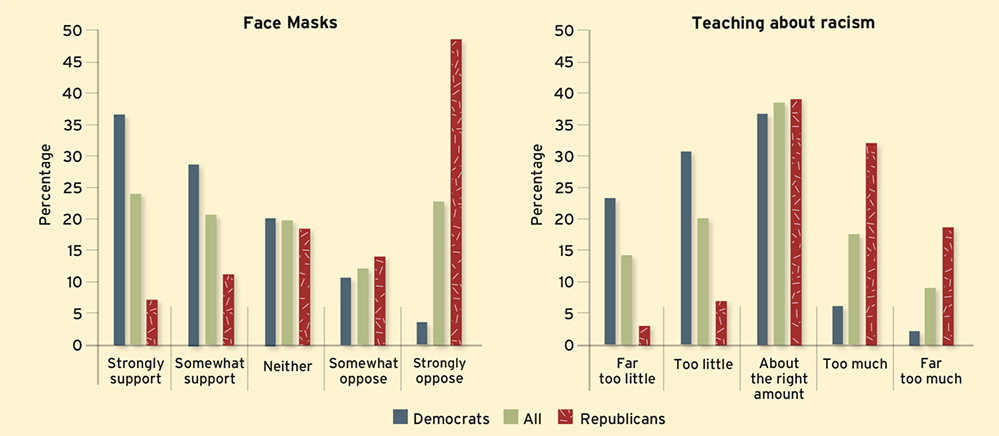 In the past, Democrats and Republicans were fairly united in giving their local schools high grades. But now, just 47% of Republicans assign an A or a B, compared with 56% of Democrats.
Perhaps due to the public's dimming perception of schools, support for education reforms, including vouchers, charter schools and free college, has bounced back to almost pre-pandemic highs. At the start of the pandemic, there was a decline in support "for almost everything across the ideological spectrum," Houston said.
Before the pandemic, for example, 49% of Americans supported vouchers for students from low-income families. That dropped to 43% last year and is now back up to 48%
"I don't think the public had this huge appetite for dramatic change" at the start of the pandemic, he said, adding that they were "interested in getting the status quo back."
While the survey doesn't provide a pre-pandemic comparison on the question of homeschooling, it captures growing support for the model — from 49% in 2020 to 54% this year.
Given the challenges of the past two years, it's not surprising that people feel less favorable toward their schools, said Teresa Preston, director of publications at PDK International, another organization that measures public views on education.
But true feelings about schools are complex, she said.
"Opinions are so divided that I think it's difficult to get a clear understanding of how members of the public feel — or how they'll feel as concerns about the pandemic recede," she said.
Case in point: Even with waning trust in schools, overall support for increasing teacher salaries has climbed to 72% — the highest since Education Next first conducted its survey in 2007. But the gap between the parties has grown to more than 20 percentage points.
Despite the lower school ratings, Preston understands why Americans favor boosting teacher compensation.
"Teachers worked tremendously hard during the pandemic, and this may reflect the public's understanding of how difficult it has been for teachers over the past few years," she said.
Experts disagree about the extent of teacher shortages, but with staff vacancies in the news, the public "may be seeing the need to give them more reasons to stay," she said.
Parents agree, according to another survey out this week from Lexia Learning, a literacy curriculum company, which was conducted by the Harris Poll. Almost two-thirds of parents with a child in school this fall say paying teachers more would improve retention. And more than 75% said they're concerned about staff shortages at their child's school.
'Deep family engagement'
The drop in support for local schools held true among parents. In a separate Education Next sample of over 1,850 K-12 parents, 59% gave their local schools an A or B, compared to 64% in 2020.
With enrollment drops and families facing greater hardship, schools have had to work harder to maintain contact over the past two years, said Patience Peabody, executive director of the Flamboyan Foundation, which supports schools' family engagement efforts.
She saw those challenges up close in some of the poorest neighborhoods in Washington.
"Family trust was at an all-time low. Where trust was maintained, it was at local schools that had a culture of really deep family engagement," she said. "You see how well the relationships are rooted when things are spiraling out of control."
In surveys and focus groups, the foundation heard from parents who wanted their children to feel joy about school again. It donated $125,000 to 50 schools for projects that made learning fun, such as songwriting and outdoor ice skating.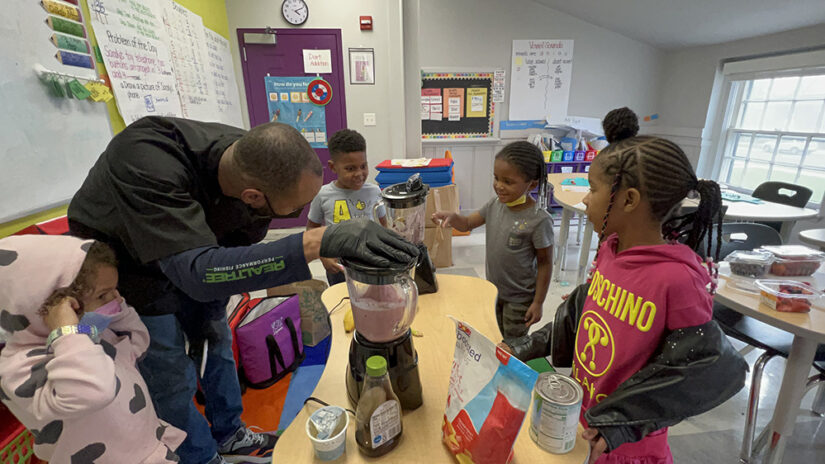 As the school year begins and districts drop COVID mitigation measures, parents' worries over learning loss have eased compared to the fall of 2020, Education Next finds. Almost half say they are confident their children will catch up and just 9% responded that they don't think their children will recover. The rest said their children didn't experience learning loss.
And parents say they aren't overly concerned about how their children's teachers discuss race-related issues in the classroom, despite widespread attention to disputes at school board meetings and on social media. Another recent poll from NPR and Ipsos showed similar results, with a minority — about a quarter of parents — saying they don't have enough say over what schools teach.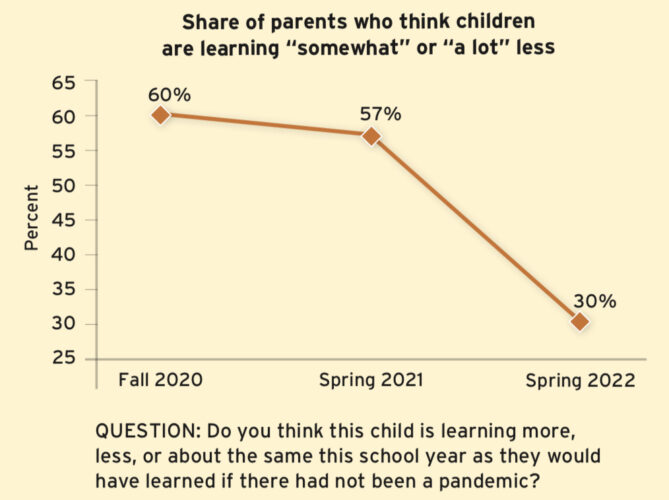 Almost two-thirds of parents said their child's school gives the right amount of attention to the topic. But that's where parents strongly diverge from the general public. Forty percent of Americans overall feel there's an appropriate amount of focus on the issue, with 54% of Democrats saying there's too little emphasis and 51% of Republicans saying there's too much.
There is an "unhappy minority" among parents and the public, and that "could play out in interesting and pivotal ways in the upcoming election," Houston said.
But he stressed that people can afford to relax a bit. "This isn't a moment of widespread perceptions of crisis."
---
This article was published in partnership with The 74. Sign up for The 74's newsletter here.