Report flunks teacher prep programs on the science of reading
Kate Rix | June 19, 2023
---
Your donation will help us produce journalism like this. Please give today.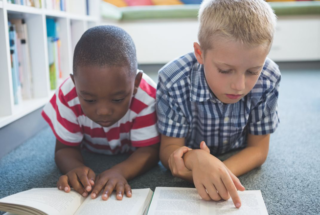 Only 25% of teacher preparation programs cover all the core elements of scientifically based reading instruction, and another quarter don't cover any adequately, according to a report released earlier this month by the National Council on Teacher Quality.
Evaluating 693 undergraduate and graduate teacher training programs, the council found that 40% of programs instruct aspiring educators to use debunked teaching practices, including so-called three-cueing strategies that urge children to guess at words they don't know rather than sound them out. These methods have recently been banned in some states.
The findings come against the backdrop of massing reading deficits. Among fourth-graders, 37% cannot read at a basic level, and proficiency rates are even lower for children of color, low-income students and those with learning differences. But research from 2020 found that more than 70% of special education and K-2 teachers use methods not grounded in the science of reading.
"We know that too many kids are not learning to read. Better teacher preparation aligned with the science of reading can change that," says NCTQ President Heather Peske. "If we focus on teacher preparation, this is an upstream approach that will have downstream implications at scale."
To address the reading crisis, according to NCTQ, educators must be trained to teach the five components of scientifically based reading instruction: phonemic awareness (spoken words), phonics (matching sounds with letters), fluency (reading without much effort), vocabulary and comprehension. The approach is based on a vast body of research, most recently confirmed in a 2019 federal report.
The problem, the council argues, is that too many teacher training programs still promote discredited methods under the umbrella of balanced reading, including so-called running records, which use errors children make to calculate their reading level. The method is widely popular — practiced in well above a third of programs in the analysis — and has been shown to be time-consuming and subjective, often resulting in kids being placed at the wrong reading level. This is because running records combine accuracy, fluency and comprehension in one assessment, even though these are different steps in learning to read.
Also still in practice are so-called three-cueing systems, also known as structure-meaning-visual systems, in which children are prompted to guess a word based on context and visual cues. Arkansas, Indiana and North Carolina have banned these approaches, and Ohio Gov. Mike DeWine is looking at a to do the same. The governor of Georgia signed a bill in April that requires that all literacy instruction be grounded in scientifically based methods. New York City, the nation's largest district, plans to phase out balanced reading in favor of scientifically based methods.
This is good news, Peske says, but meanwhile, children aren't learning to read.
"We can't afford to take too much time," she told The 74. "Students are sitting right in front of us." The New York City phase-out will take two years, which she said is too long.
NCTQ first reviewed the reading components in teacher preparation programs in 2013. Previous reviews have faced criticism for over-relying on partial or inaccurate data that doesn't reflect everything that student teachers are taught. So, this year, the council engaged an expert advisory panel, held an open comment period and submitted the report for review by a technical advisory group.
This year's analysis also held programs to a higher standard than the council did for its previous report, in 2020. To receive a high score, programs had to offer at least the minimum number of instruction hours for each of the five core components, as determined by the advisory panel.  They also lost points if they taught methods like balanced reading or three-cue systems.
Only 23% of the 693 programs studied got an A, meaning they adequately teach all five components, dedicate the recommended number of instructional hours to each one and include objective assessments, appropriate background materials and opportunities to practice giving reading instruction. Programs lost a full letter grade for each component not adequately covered. The report found nearly a third of programs do not provide any opportunities for practicing teaching the core components. Thirty-eight percent overall received an F.
Graduate programs fared more poorly in the report than undergraduate courses of study. Even on the same campus, the disconnect between the bachelor's level and graduate program can be huge. The undergraduate teacher preparation program at George Mason University in Virginia, for example, received an A, while the university's graduate program flunked NCTQ's review.
"The variation within a state or an institution gives an opportunity for positive change," says Peske. "There are several programs that are doing well. States could look to the ones that are doing well and ask, 'How can we replicate this?' "
For the first time, the council also looked at how well programs are preparing new educators to teach students with diverse needs. Its finding? Not well enough.
More than 70% of programs devote less than two hours to instruction about teaching English learners to read. Nearly 90% offer no opportunities to practice working with this student group.
"Teachers have clamored for the tools, skills and supports to enhance their reading instruction and help them reach all children, including those who struggle to read, especially students with dyslexia and English Language Learners," Randi Weingarten, president of the American Federation of Teachers, said in a press release. "This report confirms what educators have been saying for years: to help our students become joyful and confident readers, we must understand that teaching reading is not just an art, but also a science."
Charles & Lynn Schusterman Family Philanthropies, The Joyce Foundation and Walton Family Foundation provide financial support to National Council on Teacher Quality and LA School Report's parent company, The 74.